Thursday, September 21, 2017 / by Jason Huval
WHAT IS A HOME WARRANTY?
What Is A Home Warranty and What is Home Insurance?


A home warranty is a one-year service contract designed to protect a home's systems and appliances. If a covered system of appliance in your home fails, a home warranty will cover the repairs or replacement. This can include your plumbing, electric, heating and cooling systems. As
Shawna Bell of Landmark Home Warranty explains
, "Home warranties provide financial protection for homeowners who might be faced with unexpected problems with their appliances."
Although a home warranty is not required like home insurance is, it is a good safety precaution to have in case an appliance or a system fails. If someone has lived in your house prior to you, or your builder's warranty has expired, it is something you should consider.
Home warranties cover your major appliances in your house, unlike home insurance
which covers natural disasters, theft, and things of that nature. If your toilet floods, your warranty will cover fixing the toilet itself and the insurance will cover damage caused by the flood. Home Warranties and home insurance are complementary to each other.
What is Covered by a Home Warranty?


Home warranties can vary in what they offer based on what type of plan you choose and your home warranty company. Landmark Home Warranty offers multiple plans that range from $300-$600 depending on the coverage offered. The
basic package
covers item such as your air conditioning unit and your electrical system to plumbing. These can be upgraded with additional coverage based on your home's needs. For instance, if you have a pool, Landmark offers additional coverage on its mechanical parts.
Not only does a home warranty cover what was stated above, it gives you great
peace of mind
, no matter how much you use it. After spending hundreds of thousands of dollars on a home, the last thing you want to do is have to worry when your fridge is going to start acting out or if your air conditioning stops working in the middle of the summer. Not only is that situation stressful enough, but how are you going to pay for the repairs and replacements? That's where a home warranty comes in. All you have to do is call and open a claim. Landmark will take care of the rest, as long as the repair is covered under your warranty plan.
If your HVAC goes out,
your average repair fee is $330
,which is definitely more expensive than a monthly payment around $50. Although it is always a good idea to keep an emergency fund, having a Landmark Home Warranty helps to make sure that fund does not have to be used.
How to Use Your Home Warranty


When an appliance or system fails, the first step is to file a claim; you can go online to
landmarkhw.com
or call one of our customer service agents. Once you file a claim and pay your service call fee, Landmark will send one of our trusted contractors to your house to diagnose the issue. Once the issue is diagnosed, the contractor will let Landmark know what the diagnosis is and Landmark will approve the repair of the failed system or appliance. From that point, the contractor will do what they can to get the issue resolved in a timely manner. As long as it is something that failed due to something that is covered within your contract, Landmark will pay for it to be fixed.
Although it is inevitable that appliances break down, you can save yourself the hassle by doing your part in appliance maintenance.
Landmark's blog
is a great resource for finding how to videos and blog posts that will teach you how-to do maintenance yourself. Use your emergency fund for something fun, not broken air conditioning!
What Are The Pros and Cons of a Home Warranty?


Experts have recommended that homeowners plan to spend 1-4% on home maintenance repairs yearly. That means if your house costs $200,000 you will spend anywhere from $2,000-$8,000 on average. A home warranty costs from $350-$500 yearly on average. Home warranties will save you money in the long run. Once you
pay the service call fee
the home warranty company will fix the rest up until the monetary limit, if there is one. If your air conditioning unit is on the fritz, on average it costs up to $300 to repair, but with a home warranty, it will only cost you a service fee of $70-100. There is a life span for all appliances— eventually they will need to get repaired or replaced, and wouldn't you rather pay a small service fee rather than thousands of dollars?
If you live in an older home or have older appliances, having a home warranty will give you peace of mind, knowing that if something does fail you will have a safety net. You are able to purchase a home warranty at any time with any house.
Having a home warranty will help your house sell faster, and for more money. On average your house will sell for $2,000 more and eleven days faster than a comparable home that does not include a home warranty.
The downside of having a home warranty is that the contract will not cover pre-existing conditions. Most companies do not cover conditions that are noted in the home inspection, or if a visual or mechanical test shows a sign of problem. However if an appliance or system has a pre-existing condition that is undetectable until failure Landmark will cover the failure.
Central Metro Realty recommends Landmark Home Warranty to all of our clients.


Our customers recommend us, too!


"We've had numerous home warranties in the past, and NONE have even come close to Landmark's customer service. Submitting a claim is as easy as logging into their very easy website and filling in a few details. Within moments, you will receive an email notification that the claim is being processed, and then a call to schedule an appointment. This warranty has already saved us so much money, and we are so impressed with this company!" -Alison Davis, Carrollton TX
"Being a new homeowner, I didn't know what company I should use for home warranty. Landmark was suggested to me by my realtor, being the company that he uses for his own home. I've had to call them up for several things within the first month of moving in. With the house being 60 years old, there have been some underlying problems that were not previously caught. They have been very friendly and helpful every time I've had to call them. My problem is quickly resolved, every time! Plus the added bonuses of the home rekey, HVAC service for spring and fall, pest control, among a few. I'm very glad I chose them, and I will have them for many years to come." -Bryan Willingham.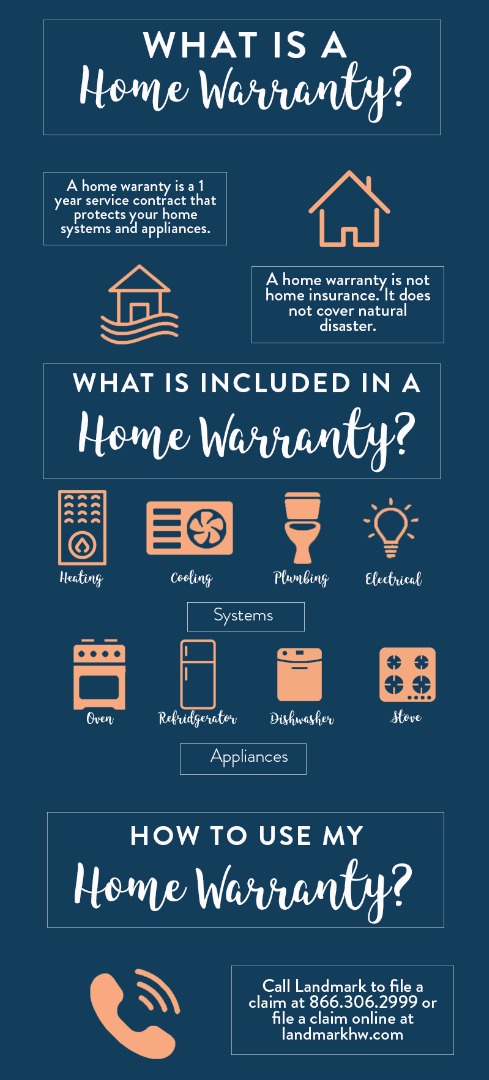 ---